I have been working on sharing more of myself .  Three years of blogging, and I have put a lot out there to the internet world.  Some of it good, some of it definitely sad, but most of it silly and happy…
Recently I have been sharing more and more of the crazy crafting projects I work on at home.  I have gotten a lot of comments asking me, how do you have the time?  I guess I just don't watch very much TV any more.  I used to never miss an episode of American Idol or The Bachelor.  But, now not so much.  There are still a few things I try not to miss, or watch while I am knitting.  For the most part, once the kids are in bed, I am working on stuff around the house, knitting, sewing, or crashing in bed.
I am in love with creating things.  Big or small.  I love the feeling of accomplishment, knowing that I did it myself.  I have started sharing it with you, and now I have put it out there for the internet world too…
Have you heard of Craftgawker??? It is such an awesome place for inspiration.  Beautiful crafts, artwork, photography, and tutorials.  So much for this craftaholic to gawk at! 
I submitted my Burlap and Blue Wreath post to craftgawker, and it was accepted, YAY!!
I am hoping to get more crafts accepted on craftgawker soon!
Recently I told you about my Birdie Wreath
Well it just got featured on this website!  You can direct link to the project here.
I have been reading craft gossip for a while, and finally took the plunge and shared my project.  Yay!!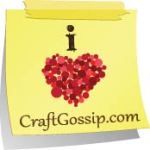 Wow, so that sums up my internet experience to date! I will let you know what other things come my way!
Happy Crafting peeps!!